Training on communication and conflict management for technology professionals
Helping people in complex organisations to get their point across
Activity-packed training for professionals working in complex and perhaps global organisations. In contrast to the Client Encounters programs, our emphasis here is on the interactions between groups within a company. Though the principles underlying successful encounters are the same, examples and case studies differ markedly.
Excellence in Professional Encounters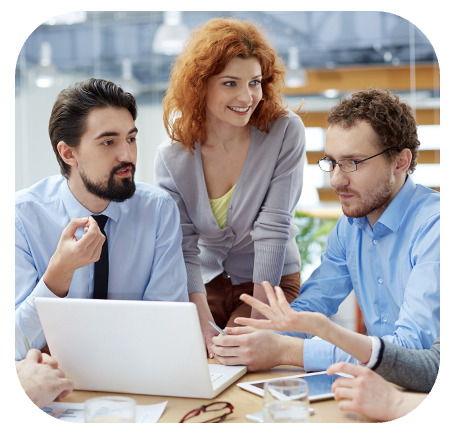 This training program addresses technical experts in complex, global organisations, whose close and effective collaboration with colleagues in other divisions is essential for realising the full value of their work.
While the purpose of interactions with internal clients is invariably technology-related, the non-technical aspect of these encounters are critically important.
For this reason, tools and methods originally conceived for external clients are a great complement to participants' technical knowledge and toolset.
Using a plethora of activities and examples, we build on participants' intuition and experience in order to achieve client encounters which …
harvest more and better information (encounter management fundamentals, learning discovery)
provide clarity and understanding (guiding discovery, rapid creation of pitches & presentations)
result in agreement and action (right assertiveness, negotiation)
… and run a reduced risk of customer issues (those that do occur being dealt with promptly!).
Optional topics include effective email, training skills (for the abstraction and transmission of specialised knowledge) and communicating across cultures.
Effectiveness in Difficult Professional Conversations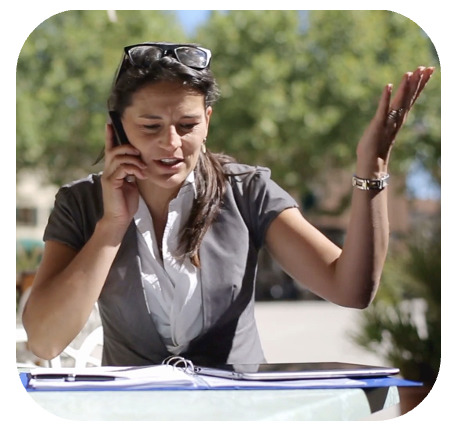 This training program addresses professionals who wish to become more effective when interactions with their colleagues and customers go wrong or where they must prepare for stressful, high-stake conversations with them.
For example, when they have to deal with offensive or insensitive behaviour, overcome obstruction or negativity, give bad news or confront someone who repeatedly fails to meet their commitments.
We equip program participants to deal with these types of situation. In particular, we enable them to skilfully move towards the difficulty, rather than avoiding it (however politely/subtly) or fighting it (returning aggression with aggression).
Starting from tools and methods presented in the Excellence in Professional Encounters program, we outline a powerful approach to difficult conversations and put it into practice with extensive examples and exercises. These are reinforced by independent work and plenty of supportive feedback.
Both programs use tools, methods and best practices from the fields of Applications Engineering, Sales, Coaching and Psychology. We make it as easy as possible to switch to and fro between technical, detail-oriented tasks and the complex, messy business of … well, business. Though we cannot claim to resolve every disconnect between these logical and not-so-logical worlds, we do facilitate navigation between them.
The reference book, Client Encounters of the Technical Kind, the ICON9 web site and online resources support participants before, during and after classroom training.
The training has been successfully delivered to major international technology providers and, like its stablemate, Excellence in Client Encounters, is a mature and up-to-date product, most suitable for global teams.
Module information for Excellence in Professional Encounters ...
| | | | | |
| --- | --- | --- | --- | --- |
| CODE | PRE-REQUISITES | MODULE | HIGHLIGHTS | DESCRIPTION |
| EPE010 |   | FUNDAMENTALS | – Encounter Process – Learning Discovery – Special situations – MAP, PAGE & DISCOVER-Y tools – | Establishes a tool-based framework to support continuous development of professional communication skills. Covers the meeting preparation and execution process. Exercises meeting skills using meeting scenarios typical of the workplace. Considers delivering bad news and dealing with difficult/angry people.  A  strong emphasis is placed on the use of Discovery, not only for gathering information, but also for influencing others and for addressing difficult situations. |
| EPE020 | EPE010 | SUPERPOWERS | – Guiding Discovery – Assertive communication – Rapid presentation planning – SUBROUTINE and TWO MINUTE MESSAGE tools – | Builds on the framework established in the Fundamentals module to enhance skills that help with  communication challenges, relationship building and influence. Guiding Discovery (GD) comprises questioning techniques that go beyond Learning Discovery in order to elegantly influence outcomes. Using the same tools as for GD, we then develop assertive communication skills, to be able to confront clients without falling into conflict. Finally, the module focuses on presenting information for maximum audience impact. Effective use of existing material. Confident presentation with fast adaptation to the needs of the moment. Key sources: NonViolent Communication, SPIN selling and Challenger. |
| EPE030 |   | WORKING UNDER PRESSURE | – Psychology of pressure –  Cognitive Behavioural Model – Taming email – Collaborative problem solving – TWO SECOND MESSAGE and OAR tools – the Task Management Canvas – | Addresses the need for improving task management, email management and self management. Differentiates pressures that can be "simply organised away" from those that can't. Offers practcal guidance for task prioritisation and management and for safely dealing with email overload. Develops insight into the management of unavoidable stress and to how this can be reduced in collaboration with colleagues. |
| EPE040 |   | COMMUNICATION AND CULTURE | – Is the communication process ok? – Are the people ok? – Debugging miscommunication – What to look out for when crossing cultures – People, nations, generations – Culturebergs – Universal rules – | Provides models and teachniques for dealing with a wide range of  viewpoints when communicating with colleagues and clients. Using the Process Communication Model as a foundation, this module gives a simple but powerful way to observe and understand communication dynamics, thereby establishing a base from which to improve those dynamics. It explains how to identify, anticipate and avoid miscommunication. The Crossing Cultures part  addresses issues commonly seen when dealing with different regional, personal, generational and other types of culture. |
Module information for Effectiveness in Difficult Professional Conversations ...
| | | | | |
| --- | --- | --- | --- | --- |
| CODE | PRE-REQUISITES | MODULE | HIGHLIGHTS | DESCRIPTION |
| EDPC010 |   | FUNDAMENTALS | – Critical Exchange – Critical Loop – Check your story – Move towards the real difficulty – Adjust intentions – | Presents a simple model for understanding and dealing with difficult conversations. Several best practices are counterintuitive, and so habit and instinct cannot be relied upon. This module therefore focuses on the essential preliminaries needed to bring feelings under control, gather one's thoughts and consciously decide how to act. |
| EDPC020 | EDPC010 | EXPRESSION | – Factual observations – Feelings – Needs – | Based on practices from NonViolent Communication, this module develops skills for expressing observations, sentiment and interests without triggering defensiveness, irritation or anger, and without doing harm. Typical workplace scenarios are used to exercise these skills. |
| EDPC030 | EDPC020 | RESOLUTION | – Requesting – Getting feedback – Procede or abort – Iteration – | Enables trainees to apply learning from EDPC010 and EDPC020 to a wide variety of situations, closing the loop on the difficult conversation and iterating as necessary. Simple techniques for engaging the other person in the conversation and for active listening (particularly difficult in the context of a heated discussion) are exercised. We also address when and how to abort a difficult conversation. |
Organisation & Next Steps
Each program is based on set of core modules for the given theme
A typical program has 2 days of classroom sessions (delivered as half-days if remote)
No two programs are the same – there is flexibility in module choice and content
Schedules, learning resources, etc. are managed through a Learning Management System
Please complete the form below in order to obtain a quotation