Transform Your Professional Communication with ICONDA's Coaching and Training
Based in Grenoble and operating worldwide, ICONDA delivers coaching to a wide range of professionals and offers specialised training in sales and support, presentation, negotiation and difficult conversations.
We teach tools to experts to influence the world
Whether you're an individual contributor or in a leadership position, you must communicate your expertise, your ideas and your views.
Communication touches every aspect of your work, be it with clients, suppliers or colleagues.
That's why effective professional communication has a huge positive impact on the quantity and type of work that you're assigned, the feedback you receive, your ability to influence others and, ultimately, your life.
ICONDA's Professional Communication coaching and training is supported by 20+ years experience in technical management, sales and field support. Since 2009, we've been helping technology professionals better manage the complex relational environment that we all work in.
Choose a program for your situation
For new employees, providing coaching programs and training courses can be an effective way to welcome them to the team and help them develop their skills. Group events can also foster team cohesion and help everyone strengthen their skills.
If you are working on a new project, coaching support and workshops sessions may be particularly useful. External assistance and group work using methods such as Open Space Technology and Design Thinking can help individuals take on new roles and unleash the full potential of your team.
If your organization has ambitious growth goals, it may be beneficial to seek an outside perspective, fresh ideas, and practical support to help you achieve your ambitions. Investing in external help can be a wise choice.
Don't delay!
When you're thirsty, it's too late to dig a well.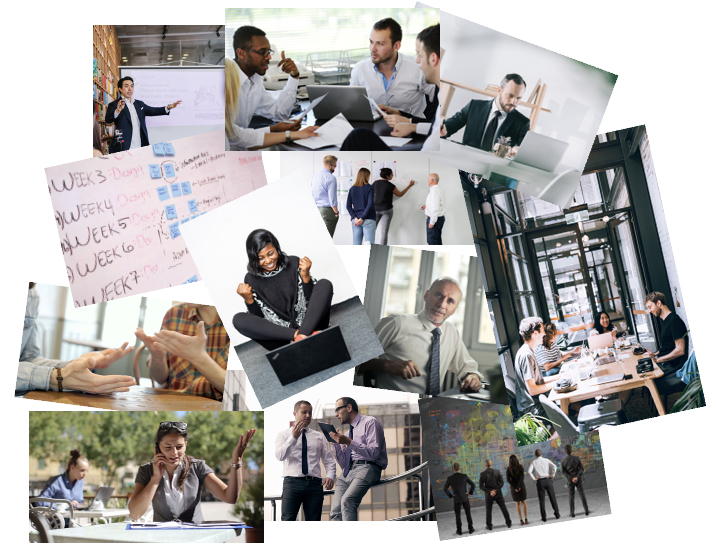 The best approach for you?
Individual focus
Personal coaching with possible participation in training courses or workshop sessions and independent learning. Online, 45-minute sessions fit easily into busy schedules and combine extrememly well with occacional group work.
Team focus
Certain tools and methods – for client communication and conflict management – are best tackled at a team or even a cross-team level, at least to start with. Live courses can then be complemented with job-centric coaching and workshop sessions.
Application focus
Sometimes, there is a special need: a company takeover, a change in software, a customer crisis …?  Though a custom solution is required, we would leverage a wide range of existing tools and methods in putting it together.
What can be learnt?
Given that all technology professionals have highly developed skills in their domain  …
Excellence in learnable, cross-disciplinary skills is differentiating
Such skills include the ability to:
clarify, share and follow through on objectives
understand and profile clients – both colleagues and customers
learn from clients, influence them, confront them without conflict
coach, train and lead others in complex, matrix organisations
quickly switch between tasks and calls
solve problems without necessarily understanding how they arose
manage six tons of email each day yet arrive home with the energy to enjoy family life!
And, of course, people with such skills are what make outstanding organisations.
What's the best way to learn?
This is the wrong question!
There is no, single best way.
Whether the preferred approach be coaching,  training, independent learning or simply on-the-job-experience, most people need some kind of mix.
Furthermore, no particular mix will suit everyone.
Our solutions all start and finish with individual interviews (checkpoints), whether they have:
an individual focus (in which case the predominant learning support is coaching)
a team focus (presentations and workshops)
an application focus (no predominant mix).
They all benefit from a solid base of core material. In our opinion, these elements are essential for effective learning.
The rest depends on our clients' learning objectives, potential and needs.
What is the result?
This is what our customers tell us about the results of our work together (for details, please see the references page) …
Increased confidence and growth

People are better able to list their faults than their strengths. By clarifying both, we encourage a healthy balance of confidence and humility.
By reframing old problems, we enable our clients to be more observant in their daily work and this results in greater on-the-job learning

Increased productivity

We use simple tools to model how we work and interact with others
This both improves awareness and augments productivity for both individual and team – shared models and terminology are key to effectiveness!

Improved management and leadership

For example, work on objectives and plans is greatly accelerated using specific tools and methods

Team autonomy

The above results have important benefits for manager-leaders – increased maturity of team members allows manager-leaders to spend more time on high-value tasks and enables teams to grow in size and capability
Deep Knowledge, Simple Tools
Difficult Conversations of the Professional Kind helps professionals with one of the most important aspects of their work: dealing with critical situations promtly and effectively. It combines a simple flow with profound concepts.
Imagine how much time and energy you could save by improving your capabilities in this area! The conversation may be with your boss, with a peer, with team-members or with a client.  Whichever it is, being able to say what's really on your mind is an invaluable skill. The tools and techniques described provide a safe way to start, allowing you to develop your own repertoire and style.
Client Encounters of the Technical Kind demystifies communication for field teams and, in doing so, renders a great service to high-tech companies. Its simple tools and processes promote productivity and effective business results. It's the ONLY product I have seen that is effective in developing the 'technical sales team.
The Task Management Canvas (free download)
The process of brainstorming sources of Things to Do and ways of dealing with Manageable Tasks helps us to see flaws in our current system. Sometimes, systems that made sense in the past have got past their sell-by dates, and we need to update them. Occasionally, we see the need for more discipline with regards to certain tasks, and the potential benefits of making this effort can motivate us to find it. Frequently, we notice one or two things that should simply be eliminated.
Just like your personal task management system, how you fill in the canvas is up to you. However, if you take your brainstorming seriously – perhaps going back to it now and again, over a few days – it can work wonders!
In brief
I am Andrew Betts and ICONDA Solutions is my company.
I have worked in the semiconductor industry for over 25 year's, the first half in design roles, the second in the field (Sales, Marketing and Applications).
A confirmed trainer, I am also an experienced coach.
But that's enough text! I'll introduce myself in this video…